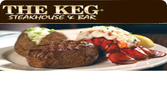 If you are trying to find the balance on your Keg Steakhouse gift card then you have come to the right place. Often we receive gift cards that end up sitting around our home for months or even years going unused, we have them so long that it is hard to keep track of whether or not you have already used a gift card and what balance remains on the card. In this post we will show you two easy ways to check The Keg gift card balance and we will also let you know how to get cash for your Keg gift card or save money on your next visit to the Keg. Before you decide how to use your Keg gift card use one of the following methods to find your gift cards balance,
1) Check The Keg Gift Card Balance Online, Click Here.
2) Check The Keg Gift Card Balance At Any Keg Steakhouse Location.
After you have determined the balance on your gift card you will need to decide whether you want to go out and have dinner at the Keg or whether you want to sell your Keg gift card. Thats right, you can now get cash for your Keg gift card by selling your gift card to Giftah.com. Its easy to do and the site will buy gift cards from almost any major restaurant or retailer. If you are the type of person who tosses their gift cards in a drawer and never uses them this is a great option for freeing up the cash that would otherwise remain tied up in a gift card. If you decide that you would rather have dinner at the Keg Steakhouse be sure to check Giftah.com card listings to see if any discount Keg gift cards are available. With a discount gift card for The Keg you can save cash on anything you order. Either way Giftah.com is putting more cash in your pocket.

Tags: check gift cards balance, check the keg gift card balance, check the keg gift certificate, check your gift card balance, Keg Gift Card, Keg Gift Card balance, Keg Gift Cards, keg gift certificate, keg steakhouse gift card, keg steakhouse gift card balance, The Keg, The Keg Gift Card Balance, the keg gift certificate, the keg steakhouse gift card, View Gift Card Balance